⬅ Return to collection
1900-1940s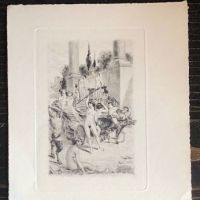 Paul Emile Becat Erotica Drypoint Etching of Satyrs and Dionysus Festival with Nude Woman and Nude On Lookers Circa 1930's
Sadly the tile is gone but my client saved these French, Circa 1930s-1940's etchings from a folio. The Artist appears to be the French Artist Paul Emile Becat (2 February 1885 – 1 January 1960 in Paris). Becat specialized from 1933 in the technique of drypoint in his erotic works.
I do not know what book this is from but the appearance of Dionysus and the satyrs, gather and indulge behind the nude woman. We all know who Dionysus was and his role in debauchery and indulgence but he was also imagery as fertility. The satyrs were a figural metaphor of the duality of man, the human side as well as the base animal carnal instincts of humans. Oh what a time!!
The etching shows males and females watching the procession move by while the nude woman in the foreground grabs your attention.
The etching is a very fine drypoint with a firm plate impression on the paper. The paper has the deckle edges and does not appear to have been trimmed.

Size: 5 9/16 x 7 9/16 inches
Condition: Very fine with very minimal signs of age and appears to have no visible damage. Please see the images for more details.
If you have any questions or if you need more images please feel free to contact me.
NOTE:
The price listed is for US. If you are an overseas buyer please email me your shipping address before purchase to get a shipping quote.
Detail photos Click to enlarge