⬅ Return to collection
1900-1940s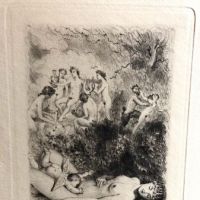 Paul Emile Becat Erotica Drypoint Greek Woman Having a Sexual Dream Visited By Eros
From the same collection as the previous entry.
The Artist appears to be the French Artist Paul Emile Becat (2 February 1885 – 1 January 1960 in Paris). Becat specialized from 1933 in the technique of drypoint in his erotic works.
Again, attributed to Becat, this drypoint etching is from the same series as the other etching posted.
In this image, the young woman is laying in dream state while eros visits her, giving her sexual dreams. The one image on the right she is being chased by a satyr, who is the symbol of Half man and Half Animal. The other image to the left is a god, Apollo and is surrounded by woman waiting on him.
The bottom image of the woman is the risqué part, I can describe it but I am sure you can see what is happening.

Medium: etching is a very fine drypoint with a firm plate impression on the paper. The paper has the deckle edges and does not appear to have been trimmed.

Size: 5 9/16 x 7 9/16 inches
Condition: Very fine with very minimal signs of age and appears to have no visible damage. Please see the images for more details.
If you have any questions or if you need more images please feel free to contact me.
NOTE:
The price listed is for US. If you are an overseas buyer please email me your shipping address before purchase to get a shipping quote.
Detail photos Click to enlarge