⬅ Return to collection
1st Edition : Mid-century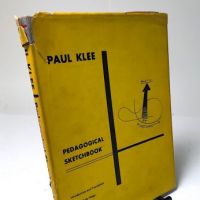 Paul Klee Pedagogical Sketchbook 1953 Faber and Faber Hardback with Dj Translated by Sibyl Moholy-Nagy 1st Edition
Paul Klee Pedagogical Sketchbook 1953 Faber and Faber Hardback with Dust Jacket
Paul Klee, the spiritual nonobjective artist who was a teacher for the Bauhaus. His art was based on mathematic and basic geometric forms but the movement of his paintings was the revolutionary. His art used basic forms that dealt with his spiritual and his mortal coil. In his paintings he was able to convey what daily life with spiritualism could be always questioned and in flux.
The original book, was hand written with accompanying drawings show his examples.
"…based on his extensive lectures on visual form at Bauhaus Staatliche Art School where he was a teacher in between 1921-1931. Originally handwritten – as a pile of working notes he used in his lectures – it was eventually edited by Walter Gropius, designed by László Moholy-Nagy and published in as a Bauhaus student manual (Bauhausbucher No.2, as the second in the series of the fourteen Bauhaus books)"
A simple overview of the book was "Pedagogical Sketchbook is an intuitive art investigation of dynamic principles in visual arts. Klee takes his students on an 'adventure in seeing guiding them step-by-step through a challenging conceptual framework. Objects are rendered in a complex relation to physical and intellectual space concepts. It is an exercise in modern art thinking."
Translated by the Laszlo Maholy Nagy's wife, Sibyl with updated dust jacket.
Along with Kandinsky's Concerning the Spiritual in Art, Pedagogical Sketchbook is one of the lasting lessons from the original Bauhaus.
Condition: The binding is tight and fine with some light signs of use. The first page has staining from the dust jacket, previous owners name is in pen on the inside cover and first page has old price in pencil. The Dust Jacket has some soiling from age and shelf and the inside has lower price clipped DJ. Top left spine edge has a tear and light chipping. The top right corner has a small tear and the top edge has somme light wrinkling. The back has chipping on the top right and wrinkling to the top edge. Please see the images provided for more details and for a visual description.
If you have any question or need additional images, please feel free to contact me.
NOTE:
International orders, please email me your shipping address before purchase with your address to get a shipping quote. The shipping price is for US buyers only.
Detail photos Click to enlarge