⬅ Return to collection
Art : Mid Century Design : Mid-century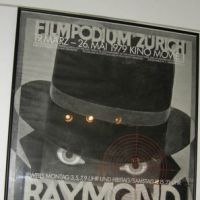 Paul Bruhwiler 1979 Filmpodium Zurich Raymond Chandler and Film Noir Poster
Paul Bruhwiler's Art is a creative mixture of Europe Avant Garde Graphic Design of the early 20th century and the Post Modernist and Mid Century Deconstructivist approach. There is no wonder why he choose the medium of poster design to show off his talents and this piece is no exception.
Here is an early and wonderful example, the blend of the aggressive Bauhaus angular design mixed with the imagery and cold stark feel of Raymond Chandler's novels.
The poster is for the 1979 Filmpodium Zurich. The information on the lower left side reads: "Plakatgestltung c. 79 Paul Bruhwiler 8700 kusnacht". The poster is in very good condition., but the

Condition: Please note, a small razor cut is in the top right, not visible when framed, please see the detail of the damage area.

If you have any questions or need additional information, please feel free to contact me.

NOTE:
This piece has been photographed inside of a frame behind Plexi and there are reflections, these are not in the art work. The piece is sold with out the frame and will be shipping in a mailing tube.

Detail photos Click to enlarge