⬅ Return to collection
Art : 1900-1940s
This item has been sold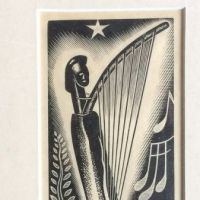 Paul Landacre Wood Cut Signed Pencil and In the Plate African Harp II C. 1955 VERY RARE
A Very Rare Paul Landacre (American, 1893-1963) Pencil Signed African Harp II (design for greeting card). This is one of the three signed known editions.

African Harp II (design for greeting card)", c. 1955. Edition: None. Three signed impressions. Ten unsigned impressions. Wien 303.
Wein is the the author and researcher for the new catalogue raisonne of Paul Landacre

Wood Engraving
Year: 1940
Size: image 2 1/2" x 4 5/8 inches
Condition: Very Fine Please see images for description.

Paul Landacre
"many of Landacre's linoleum cuts and wood engravings were inspired by the American Far West, including the hills and mountains of Big Sur, Palm Springs, Monterey, and Berkeley. "California Hills and Other Wood Engravings by Paul Landacre" (Los Angeles: Bruce McCallister, 1931), a limited-edition folio comprising 15 of Landacre's early works printed from the original blocks, was awarded recognition as one of the "Fifty Books of the Year" for 1931. In rapid succession, three books featuring his wood engraved designs also garnered such recognition: "The Boar and the Shibboleth" (1933), "A Gil Blas in California" (1933), and "XV Poems for the Heath Broom" (1934). In the 1950s, the AIGA recognized "A Natural History of Western Trees" (1953) and "Books West Southwest, Essays on Writers, Their Books and Their Land" (1957) as "Fifty Books of the Year", and they became the fifth and sixth books with Landacre designs to win the prestigious award. For "Trees" Landacre contributed more than 200 ink drawings on scratchboard."

NOTE:
I have not taken the piece out of the frame and is photographed in the frame, all damage will be noted. Any glare or reflection on the images is in the photography and not in the image.

If you have any questions or if you need additional images, please feel free to contact me.
Detail photos Click to enlarge