⬅ Return to collection
[uncategorized]
This item has been sold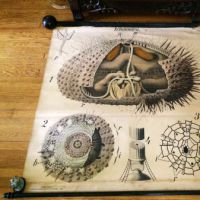 Paul Pfurtscheller Echinoidea Sea Urchin Pull Down by Pichlers Witwe and Sohn circa 1900
Title: Echinoidea
An early 1900s big zoological wall charts created by Paul Pfurtscheller, the Austrian zoologist and natural history illustrator and published by "Pichlers Witwe & Sohn". The lithograph color and detail is probably the best I have seen. Printed by E. Hochdanz in Stuttgart

Measures: 50 1/2" x 55 1/2"
Condition: for the age this is in Great Condition. the colors and saturation of the printing is sharp and crisp. The paper has started to chip in areas, due to the use and age. I have taken many photos of the pull and if you need more please email me.

"A. Pichler's Witwe & Sohn, Buchhandlung und Lehrmittelanstalt, Wien & Leipzig"

Pichlers Witwe & Sohn" (A. Pichler's Widow & Son) was an Austrian publisher and printer based at 2 Margaretenplatz, Vienna, founded in 1793 by Anton Andreas Pichler (14 June 1770 – 24 July 1823)
"On Pichler's death in 1823, the business passed to his widow, who proved to be an astute businesswoman. In 1851, her son Franz Pichler, born in 1808, was recorded as her business partner, the firm then operating under the name of A. Pichlers Witwe & Sohn. In 1865, on his mother's death, Franz became sole owner of the firm and assigned the printing section to W. Köhler. In 1874, control of the firm passed to Franz Pichler jr., born in 1845. He expanded the business by establishing a department dealing with educational aids.
In the early 1900s the firm published a series of zoological wall charts created by Paul Pfurtscheller, the Austrian zoologist and natural history illustrator."

"Originally published by A. Pichler's Witwe & Sohn und Buchhandlung Lehrmittelanstalt, (A. Pichler's Widow & Son , bookstore for educational literature and teaching aids) Vienna and Leipzig. The plates were sold as loose sheets (some folded) sometimes with a coat of varnish, which is responsible for the often yellowish appearance. Author and illustrator of the charts was Prof. Dr.Paul Pfurtscheller (1855-1927). The charts have been issued since 1902, when the first five charts went on sale. Originally, there were nearly 70 charts planned. Around 1926 (?) the complete stock of wall charts was acquired by the publisher Martinus Nijhoff in The Hague. The last (and number 39), the Oriental cockroach, came into being after 1926. Images remained largely unchanged over the years of issue, but there are several versions (layout) differences, especially when Nijhoff made the plates more elongated. The last appearance in a Martinus Nijhoff catalogue was in 1953."

"Born on November 20, 1855 in Salzburg, he graduated from the Normal School and then High School in 1874, after which he entered the University of Vienna. In 1879, after only three years of studies, he obtained his Doctor of Philosophy degree and his teaching qualifications for science. After six years teaching in Franz-Josef High school, he worked for three years as a temporary teacher at a high school in the second District of Vienna. He then went back to the Franz-Josef Gymnasium as a 'real' teacher, where he remained until he retired in January 1911. Since 1877 he was a member the Zoological and Botanical Society, the meetings of which he regularly attended.
Pfurtscheller found time to create these wall charts to support his personal teaching lessons. Although he did not have any formal art training, he worked hard to develop these highly professional wall charts. Originally only intended for high school purposes, they were also used in the University Zoological Institute and were well respected by many of the most eminent zoologists of his period."

If you have any questions or if you need additional images, please feel free to contact me.


Detail photos Click to enlarge