⬅ Return to collection
[uncategorized]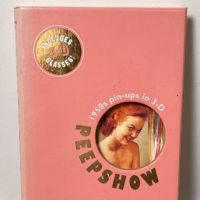 Peepshow 1950's Pin Ups in 3D Book Introduction by Bunny Yeager 1st Ed. Published by St. Martin's Press Hardback with Viewer
Peepshow 1950's Pin Ups in 3D Book
Introduction by Bunny Yeager
Created and Edited by Melcher Media
1st Ed.
Year: 2001
Published by St. Martin's Press Hardback with Viewer
The 3d viewer has been around for more than 100 years, once a popular past time of the victorian era of the 19th c., people would sit and view at the new medium of photography and all its off shoots. The 3D viewer started bring popular destination of far off lands and people, giving the spectator an almost "I was there" feel.
With the invention of photography, nudity and erotic came quickly into play and with the craze of stereoviewers people would bring erotica into focus.
This book, brings the stereoviewer back but this time with the 1950's pinup. The images are in full color and playful, a Vargas Girl come to life.
No wonder Bunny Yeager wrote the introduction.
95 pages, the book has it's own viewer, a well thought out design.
Size: 4 3/4 x 7 1/4 inches
Condition: very good with light signs of use and wear. Front cover is slightly faded and the bottom edge has small abrasion from shelf wear. Inside, no damage to the pages. Light signs of use but the binding is still tight and intact. Please see the images for more details.
If you have any questions or need additional information, please feel free to contact me.

Noted:
Overseas buyers please email me for shipping quote, please provide me with a shipping address and postal code.
Detail photos Click to enlarge