⬅ Return to collection
Vintage
This item has been sold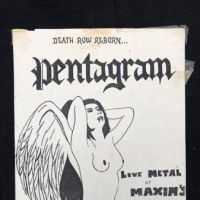 Pentagram Death Row Reborn Maxim's Tysons Corner VA. Dec. 10th 1984 Doom Metal Flyer
Pentagram.... .Death Row Reborn...
From Wikki...
"In 1980, bassist Lee Abney and guitarist Victor Griffin formed a Knoxville, Tennessee (later based in Northern Virginia) doom metal band named Death Row. Shortly thereafter, drummer Hasselvander joined, and the group recruited Liebling on vocals. Former member Swaney soon replaced Abney on bass and the classic Death Row lineup was forged. Following two demos in 1982 and 1983, Hasselvander left the band in 1984. Stuart Rose was picked as his replacement, and the band soon assumed the Pentagram mantle. The 1982 demo, All Your Sins, was then remixed and partially rerecorded in 1984 for release in 1985 as the band's eponymous debut album."


Bands: Pentagram (Death Row band)
Date: Monday December 10th 1984
Location: Maxim's Tysons Corner Virginia


Size: 8 x 10
Condition: Tape on all four corners and minor wear from being stored. Please see images for a visual description.

If you have any questions or if you need additional images, please feel free to email me.

Note:
shipping cost is for US only, if you are an over seas buyers please email me your shipping address to get a shipping quote.
Detail photos Click to enlarge