⬅ Return to collection
[uncategorized]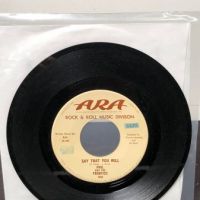 Phil and The Frantics Say That You Will and Till You Get What You Want on ARA 1965 Single Produced by Waylon Jennings
Phil and The Frantics Say That You Will / Till You Get What You Want on ARA– 1968
The band formed in in Phoenix, AZ, in 1963 and had a lengthy career for a garage band, 5 singles and had Waylon Jennings as a producer, their two singles on Sounds LTD was operated by Waylon Jennings. Their last single was on Ramco label, the large and prolific label also that had Waylon Jennings on the roster.
This the bands second single, 1965 and is the band's more haunting single, amazing production and the sound of the pounding keyboard is just the beginning, the big reverb guitar lead into the chorus is big grab! Way to go Waylon!
The b-side is more the upbeat number making this an amazing two sided hit single, the B-side is ax good, different feel for sure but still a strong garage stomp single on both sides.
Listen Here:
SIDE 1
SIDE 2
Condition: Vinyl is high VG+, side one is great with a very faint and only sight and faintly heard crackle. SIDE 2 plays about equal with a light surface at start of song but drops when vocals come in. SIDE 1 label has two small stickers with numbers. Sleeve is generic.
If you have any question or need additional images, please feel free to contact me.
NOTE:
International orders. Shipping will be $18. Please contact me before purchase if you are an International buyer. I will need to adjust the shipping price to reflect a correct shipping cost to you.
Detail photos Click to enlarge