⬅ Return to collection
1st Edition : Mid-century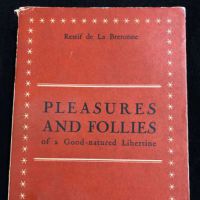 Pleasures and Follies of a Good Natured Libertine 1955 Olympia Press 1st Paperback La Bretonne
Title: Pleasures and Follies of a Good-Natured Libertine
By: Restif de La Bretonne
Published by: The Olympia Press
Year: February 1955
printed in France by Imprimerie Mazarine

Paperback with paper wrapper, 1st edition of this erotic tale.
Bio of Writer:
"Written by Nicolas-Edme Restif, byname Restif De La Bretonne, (born Oct. 23, 1734, Sacy, near Auxerre, France—died Feb. 3, 1806, Paris), French novelist whose works provide lively, detailed accounts of the sordid aspects of French life and society in the 18th century."

"Olympia Press was a Paris-based publisher, launched in 1953 by Maurice Girodias as a rebranded version of the Obelisk Press he inherited from his father Jack Kahane. It published a mix of erotic fiction and avant-garde literary fiction, and is best known for the first print of Vladimir Nabokov's Lolita.
It specialized in books which could not be published (without legal action) in the English-speaking world, and correctly assumed that the French, who were unable to read the books, and were more sexually tolerant, would leave them alone. They were books to buy if your travels took you through Paris."

If you have any questions or if you need additional images, please feel free to email me.
Note:
shipping cost is for US only, if you are an over seas buyers please email me your shipping address to get a shipping quote.
Detail photos Click to enlarge