⬅ Return to collection
Lighting : Mid Century Design : Mid-century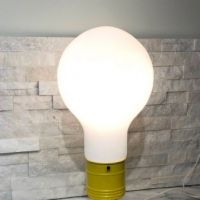 Pop Art V. V. France Giant Light Bulb Hanging Lamp with Optional Table Stand Fixture Circa 1960s
The amazing circa 1960's-1970's Yellow Pop Art V. V. France Giant Light Bulb. Most of these are the hanging lamp but this one is the lesser seen and rarer hanging lamp with the table base accessory. As you can see the base is original to the lamp, the color is matching and the base is an amazing attribute.
The lamp has a bright yellow metal socket and a white glass bulb-shaped shade. The Pop Art Movement, used everyday objects as art. Warhol and the soup can, Claus Oldenburg with his large land objects of every day objects like tooth brush comes to mind when looking at this piece. The Yellow metal base adds to this amazing Pop Art Lamp.
The socket, a porcelain socket and the cord is original to the lamp, the inline turn switch and the flush mount plug also appears to be original.
The shade does not have the V.V. France sticker but is original to the piece.
Size: total height 18" tall
Condition: The glass is in near perfect condition but doesn't not have the sticker. No breaks or cracks in the glass. The base has some light wear, at the lip of the metal there is a light wear mark. The base has light marks, a speckle of marks. I have not cleaned or altered this piece in any way. Please see the images for more details.
If you have any questions or if you need additional images please feel free to contact me.
NOTE:
International orders, please email me your shipping address before purchase with your address to get a shipping quote. The shipping price is for US buyers only.
Detail photos Click to enlarge