⬅ Return to collection
Art : Culture : Mid-century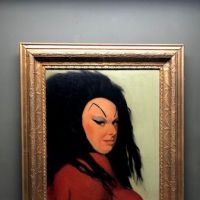 Portrait of Divine 1974 Painting Female Trouble Era by M. Tennant John Waters Dreamland Post Pink Flamingos
Divine, the character that raised the low brow character of films. She was the character of Glenn Milstead who was from Baltimore and was the star of many of John Waters films. Divine would go on to create plays and become a singer and would be a leading figure of 70's and 80's camp, trash and leader of drag queens then and now.
Glenn Milstead would sit for David Hockney but Divine, she only sat for one portrait and this is it.
Dated 1974 and signed Tennant on the lower right, this is THE ONLY painting of Divine that is from the period.
My client got this from a close friend who had the painting for about 30 or more years, he sadly died and my client was inherited the painting. Now is the the time she hangs in a house which can show the painting.
My client has worked on Pecker, John Waters film in the 90s, my client created the Mary, you know the one, "..full of grace". So when it has come time to sell the painting, he contacted personal friends of Divine and asked the questions, did she sit for this and the two close friends confirmed that Divine did sit for the painting.
1974 was the year of Female Trouble, in the film Divine would have her signature eye makeup and the black full mane, this painting has both.
Size: Framed 28" x 30"

Condition: fine, the painting has not been cleaned since my client has had the painting, approx 10 years and before that there are no records of conservation or alterations. You can see the ground is crazing but no flaking or loss of paint. Please see the images for more details
If you have any questions or if you need additional images, please feel free to email me.

Note:
shipping cost is for US only, if you are an over seas buyers please email me your shipping address to get a shipping quote
Detail photos Click to enlarge