⬅ Return to collection
[uncategorized]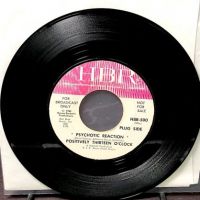 Positively 13 O'Clock Psychotic Reaction on Hanna-Barbera Records HBR-500 Promo 1966 Mouse and The Traps
Positively 13 O'Clock Psychotic Reaction on Hanna-Barbera Records – HBR-500 Promo.
The bands first single in 1966 on the very short lived label, Hanna Barbera, 1965-1967. Yes the same company did Scooby and cartoons had a short ride into the Garage Music scene.
The band was actually a made up band, .."Positively Thirteen O'Clock didn't actually exist. The band was, in reality, a band called Mouse and The Traps from Tyler, Texas."
"Mouse and The Traps had just had a hit with their Bob Dylan influenced, A Public Execution for Fraternity Records when they recorded this number."
One this single, the "bands" first, the band chooses to the cover the garage hit, Psychotic Reaction by the Count Five.
Take a listen
SIDE 1

SIDE 2

Condition: Vinyl is high VG+, very light and faint surface can be heard in quiet parts but very low and below the music. Both sides play equal with both being a solid VG+ and or slightly higher. Sleeve is generic white.
If you have any questions or if you need additional images, please feel free to email me.

Note:
shipping cost is for US only, if you are an over seas buyers please email me your shipping address to get a shipping quote.
Detail photos Click to enlarge