⬅ Return to collection
1900-1940s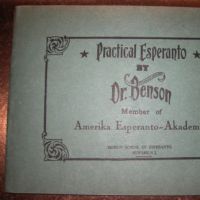 Practical Esperanto by Dr. Benson 1932 Home Course Pub. by Benson School of Esperanto New York
Practical Esperanto by Dr. Benson 1932 Home Course
Rare paper cover course book on Esperanto by Dr. Benson
Stamped on the inside cover with Esperanto Association of North America 114 West 16th Street New York 11 NY.
Dr. William H. Benson, popularized the "International Language" of Doctor Ludovic Zamenhof, first published pamphlet was in 1887.
The Esperanto Association, located in 114 West 16st Street New York.

Title: Practical Esperanto
By: Dr. William Benson
Date: 1932 published
"Practical Esperanto was a small, paperbound book, approximately five by seven inches, and consisted of about 80 pages. Unlike Benson's later works, it was clearly aimed solely at English speakers: all explanatory text was in English; even the book's title was in English. It was also a more traditional language primer in that it was largely text-based. And although Practical Esperanto contained a vast number of small illustrations, it was not always immediately evident how these drawings related to the accompanying text."
The small 80 page book…"Practical Esperanto was the first text in which Benson published a number of illustrated tables that would become one the hallmarks of his work in subsequent years. These tables usually contained a dozen drawings with an explanatory header at the top. They most often served to illustrate Esperanto prefixes or suffixes."
The history of the Esperanto was "goal was to create an easy and flexible language that would serve as a universal second language to foster world peace and international understanding, and to build a "community of speakers", as he believed that one could not have a language without such a community".

paper wrappers, 159 papges
Size: 5 1/2 x 7 1/2

If you have any questions or need additional images, please feel free to email me.

Note:
Over seas buyers please email me for shipping quote, please provide me with a shipping address and postal code.

Detail photos Click to enlarge