⬅ Return to collection
Mid-century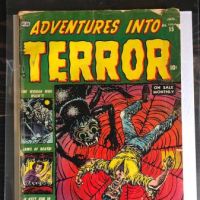 Pre Code Horror Comic Adventures into Terror No. 15 January 1953 Pub. by Atlas/ Marvel Cover art by Joe Maneely Stan Lee Story
**Sames Estate as the other Pre Code Comics listed**
Title: Adventures into Terror No. 15
Date: January 1953
Pub by Marvel / Atlas
**Atlas Comics is the 1950s comic-book publishing label that evolved into Marvel Comics**
"Cover art by Joe Maneely. The Woman Who Wasn't, art by Tony DiPreta; In a wealthy land beneath Greece, descendants of Medusa deal with thieves by incorporating them into their snake-heads. The Lion's Mouth; A lion-tamer hates his wife and so he trains the lion that he puts his head in to hate her too. The Thing in the Cave. He Kept Him in Stitches, script by Stan Lee; A surgeon gets the chance to operate on a Communist overlord and leaves his scalpel inside of him near his heart so that when he recovers enough in two days to move, he will die. Jaws of Death, art by Cal Massey; When a bank-robber's partner runs out on him and leaves him behind for the police, his ghost fools the sap with false promises of stolen money hidden in the alligator pit into getting devoured. The Tarantula!, pencils by Hy Rosen; A village is victimized by vampire tarantulas."
Condition: The Cover has great color but chipping on the top right corner and missing small piece and taped on the inside of the cover. Wrinkle on the top and bottom edge of the cover. The Spine side has tape and is separated from staples on the top part, bottom staple is still secure. The Back has tape on the spine edge, and bottom right corner is curled and bent. Chipping to the left edge in areas. The Binding is tight and the color and crisp pages are amazing. Just a slight curl to the corner of the pages.
If you have any questions or need additional information, please feel free to contact me.
Noted:
Over seas buyers please email me for shipping quote, please provide me with a shipping address and postal code.
Detail photos Click to enlarge