⬅ Return to collection
Mid-century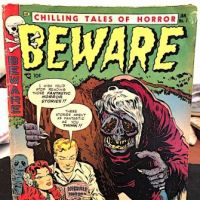 Pre Code Horror Comic Beware Jan. No. 7 1954 Published by Trojan Merit Rare Comic
Beware Jan. No. 7 1954 Published by Trojan Merit
**Sames Estate as the other Pre Code Comics listed**
Title: Beware no. 7
Date: January 1954
Pub by Trojan / Merit
Condition: he cover has some wear on the spine and pulling at staples. Top has slight wear on the edges, the right has small chip on right side and the lower right has small abrasion. The Back cover has mall chip on lower left only and has slight discolor to the white paper. The Binding is tight. Pages inside are in VG+ condition
If you need more image please tell me what areas you need photographed.
"The Life of Riley" (art by Myron Fass),"Guest of the Ghouls" (art by Sid Check), "Heads of the Dead," and "Black Death."
If you have any questions or need additional information, please feel free to contact me.
Noted:
Over seas buyers please email me for shipping quote, please provide me with a shipping address and postal code.
Detail photos Click to enlarge