⬅ Return to collection
Mid-century
This item has been sold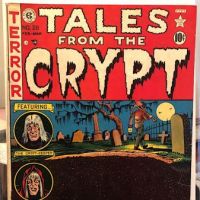 Pre Code Horror Comic Tales From The Crypt No. 28 Febuary 1952 EC Comics Cover by Al Feldstein
Tales From The Crypt No. 28 Febuary 1952 EC Comics
**Sames Estate as the other Pre Code Comics listed**
Title: Tales From The Crypt No. 28
Date: Febuary 1952
Pub by EC Comics
Condition: The Cover is strong color and crips, minor pulling at the staples and some wear. The Back cover is in VG+ with slight soiling consistent with age. The Biding is tight and the inside is bright and bold colors.
If you need more image please tell me what areas you need photographed.
"Cover by Al Feldstein. EC Artist of the Month article by Al Feldstein about Joe Orlando. "Bargain In Death!", script by Al Feldstein, art by Jack Davis; Two medical students need to procure a corpse in order to get an anatomy credit to graduate and pay an imbecile five bucks to grave rob a newly dug grave. "Ants In Her Trance!", script by Al Feldstein, art by Joe Orlando; A hypnotist places his wife in a trance and commands her to stop her heart; He brings her out of it with the phrase 'snap out of it'; When he falls for another woman, they decide to murder the wife by using the words 'wake up' instead, which won't bring her out of the trance. Break Out! text story. "A-Corny Story," script by Al Feldstein, art by Jack Kamen; An elderly man is fired due to age discrimination and returns to Haiti to work revenge upon his boss. "The Ventriloquist's Dummy!", script by Al Feldstein, art by Graham Ingels; A man with a homicidal head growing out of his wrist pursues the career path of a ventriloquist. 36 pgs., full color."
If you have any questions or need additional information, please feel free to contact me.
Noted:
Over seas buyers please email me for shipping quote, please provide me with a shipping address and postal code.
Detail photos Click to enlarge