⬅ Return to collection
Jewelry : 1900-1940s
This item has been sold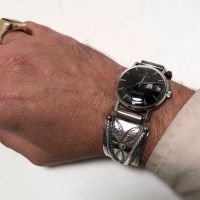 Pre WWII Silver Native American Silver Watch Band with Buckle Clasp Unmarked Hand Stamped Clinton German Watch
Circa 1940's Silver Native American silver watch band with buckle clasp, unmarked with hand stamped designs.
These early pawn pieces are amazing, with amazing detail and workmanship on the bands.
On the back you can see, the sand casting of the sliver and the hand working and what you want to see, the very subtle melted US coin. The early resigned and marked silver pieces from reservations, the Silversmiths would have access to silver through melting the US coins. US coins up until the mid 1900's were almost pure silver. Later, post WWII, the government had to make people stamp silver and at the same time stopped the reservations from melting US coins. So many early Navajo and Zuni pieces will be unmarked and very early pieces you will be able to see the still the unmelted part fo the US coin.
This early watchband is made with hand hammered work and a soldered silver rope banding. These early buckle clasp bands are great and they rarely show up. As you can see this one is still in very nice and stable condition. Included is the vintage watch, a Clinton "Shock O Matic" hand wound with date watch. The company was a German company from post WWII and made watches up until the 1970's. The watch does work and keeps time but needs to be cleaned and adjusted. The watch is in AS IS condition.
Condition: the silver is very fine and has very minimal wear. The pin on the buckle is slightly bent but still keeps the band attached but it will need to be adjusted to ensure the stability of the buckle, a very minor adjustment. Please see the pictures for more details
If you have any question or if you need additional images, please feel free to contact me.
NOTE:
The price listed is for US buyers only, if you are an overseas buyer please email me your mailing address before purchase to get a shipping quote.
Detail photos Click to enlarge