⬅ Return to collection
1900-1940s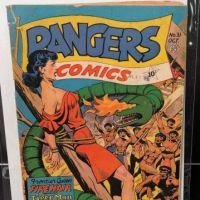 Precode Comic Rangers Comics No. 31 October 1946 Published by Fiction House Cover by Joe Doolin
**Sames Estate as the other Pre Code Comics listed**
Title: Rangers Comics No. 31
Date: October 1946
Pub by Fiction House
Condition: Cover is has chipping on spine edge. Pulls at the staples and an edge tear on spine on the top. Small edge bump with mark on top center and light and faint marks on the bottom edge of cover. Stamp with date on top right. Some slight soiling and some "glitter" on the cover. Back has light soiling for storage and binding is slightly uneven to cover. Cover is attached only at top staple, with tears and wear at staple. Bottom staples is not attached. Binding is tight with amazing clean and still colorful images. Remarkable inside!
"Cover by Joe Doolin. Edited by Jack Byrne. Stories and art by Bob Lubbers, John Celardo, Charles Sultan, Lily Renee, and Howard Larsen. Tales of adventure from pioneering comics publisher Fiction House. Firehair investigates when a fellow Dakota is framed for the robbery of the Yuma Bank; The Sky Rangers explore a gold mine threatened by a collapsing dam; Good-girl art and dog puns galore as Glory Forbes finds gangsters at a dog show. Offbeat bondage cover by Joe Doolin. Firehair; Glory Forbes; Sky Rangers; Crusoe Island; Glory Gets a Guy; The Werewolf Hunter; Tiger Man. 52 pages, Full Color."
If you have any questions or need additional information, please feel free to contact me.
Noted:
Over seas buyers please email me for shipping quote, please provide me with a shipping address and postal code.
Detail photos Click to enlarge