⬅ Return to collection
1900-1940s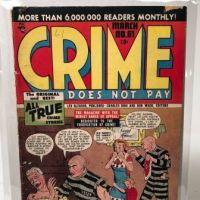 Precode Crime Comics Crime Does Not Pay No. 61 March 1948 Published by Lev Gleason Cover by Charles Biro
**Sames Estate as the other Pre Code Comics listed**

Title: Crime Does Not Pay No. 61
Date: March 1948
Pub by Lev Gleason
Cover by Charles Biro

Condition: The Cover has strong colors, top right edge has chip and top left has small tear at the edge. The spine is pulled at the staples but intact and light signs of use. The bottom right corner has small bend. Pencil mark in "R". The back cover has wear on the right edge and soiling on the left side. Bottom has stamp of Book Store where sold. Inside front cover and first page has book store stamp where sold. The binding is tight and the pages are in very good condition. First and second page has store stamp. Cover of first story has small tear on the left side. Page before the middle has light pulling and tearing at the staples. Last several pages on the top left has light staining from water damage.
Please see the images for details.
If you need more image please tell me what areas you need photographed.

"Cover by Charles Biro. Stories and art by Dan Barry, George Tuska, Fred Guardineer, Bob Moore, Fred Kida, Bob Fujitani, Bert Bushell and Charles Biro. The title that launched the crime comics genre, Crime Does Not Pay was noted for its violent pre-Code content and lurid tales of underworld life. Escaped convict Clay Fogelman tortures the hapless couple whose home he's using as a hideout. Johnny Socks Lazia rises to be the supreme gang boss in Kansas City of the late 1920s, in a story with early art by future "Flash Gordon" artist Dan Barry. A story that dares the reader to figure out which of four boarders in a boardinghouse killed the owner's beautiful daughter. Also featuring purported letters from mothers of children, approving the content of Crime Does Not Pay comics. Clay Fogelman, Meanest Man of Crime; The Rise and Fall of Johnny "Socks" Lazia, King of the Alky Rackets; On the Level; Killers' Payoff; The Electric Chair and the Murderess; This'll Kill You; Whodunnit: Who Murdered Beautiful Mary Lawson? 48 pages,"
If you have any questions or need additional information, please feel free to contact me.

Noted:
Overseas buyers please email me for shipping quote, please provide me with a shipping address and postal code.
Detail photos Click to enlarge