⬅ Return to collection
Mid-century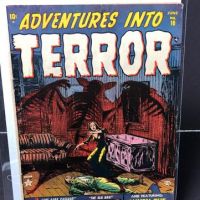 Precode Horror Comic Adventures into Terror No 10 Published by Marvel June 1952 Art by Joe Maneely
Adventures into Terror No 10 Published by Marvel 1952.
**Sames Estate as the other Pre Code Comics listed**
Title: Adventures into Terror No 10
Date: June 1952
Pub by Marvel
Condition: The Cover light and faint wrinkle, some wear on the left spine edge, slightly upturned. Minimal pulling at the staples but some small marks on spine. Lower right corner has old tape, aprox 1" tall. Back has light soil from storage and two small edge tears and old pencil marks on top right. Binding is very good with light signs of use, no damage to the pages and the pages have great strong colors.
"When the Vampire Calls!, art by Joe Maneely; A village suspects a beautiful young woman of being a vampire but her lover tries to warn her to leave before the mob arrives and discovers that it is her brother who is the drinker of human blood. The Dark Passage, art by Ogden Whitney; A convicted killer believes that he has gone to the infirmary and escaped in the ambulance when the ghosts take him to his fate as he has really died in the electric chair. The Sacred Tiger text story. What Walter Saw, pencils by Ed Goldfarb. The Snake!, art by George Roussos. The Old Hag, art by Bernard Krigstein. 36 pgs."
If you have any questions or need additional information, please feel free to contact me.
Noted:
Over seas buyers please email me for shipping quote, please provide me with a shipping address and postal code.
Detail photos Click to enlarge