⬅ Return to collection
Mid-century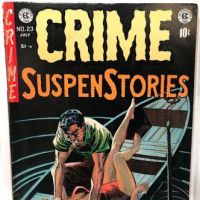 Precode Horror Comic Crime SuspenStories No. 23 July 1954 Published by EC Comics Cover art by George Evans
Crime SuspenStories No. 23 July 1954 published by EC Comics
**Sames Estate as the other Pre Code Comics listed**
Title: Crime SuspenStories No. 23
Date: July 1954
Pub by EC Comics
Condition: The cover is very clean but has scotch tape on the spine, top section and bottom section . The Back cover is very clean but the tape is also present on the spine on the back. The binding is tight and only minor pulling at the staples and some small tearing at the spine seam. The inside pages are almost mint with bold colors and the pages are very clean. Please see the images provided for more details.
If you need more image please tell me what areas you need photographed.
"Cover art by George Evans. "This'll Kill You!", script by Otto Binder, art by Reed Crandall; The police are stunned when Victor Gattling brings in the dead body of his best friend and then claims that he, Victor, has been killed by his best friend. "Standing Room Only," script by Otto Binder, art by Jack Kamen; Siblings Carl and Cynthia spent their early years cross-dressing in order to have laughs on their friends but fall out of favor with each other; Stime later, Carl sees that his sister has married into money, so he murders his sister and her husband and then disguises himself as her in order to have access to those funds as beneficiary. "The Real Thing" one-page text story by Al Feldstein, art by Marie Severin. "Return Blow," script by Carl Wessler, art by Reed Crandall; Alma and Luke decide to butter up Alma's boss lady at the fabulous Sanford Manion in order to get Alma listed in the old lady's will as beneficiary for a cool $250,000. "Last Resort," script by Carl Wessler, art by George Evans; Jerry hated Mona, hated her for being controlled by her money, so he seeks out a diversion in young and beautiful Jane, a waitress in town. Jerry kills Mona and dumps her into a lake at night, which eventually trips him up because he had dumped her body into crystal clear Silver Springs! 36 pgs."

If you have any questions or need additional information, please feel free to contact me.
Noted:
Over seas buyers please email me for shipping quote, please provide me with a shipping address and postal code.
Detail photos Click to enlarge