⬅ Return to collection
Mid-century
This item has been sold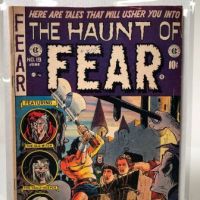 Precode Horror Comic Haunt of Fear No 19 June 1953 published by EC Comics Cover art by Graham Ingels
**Sames Estate as the other Pre Code Comics listed**
Title: Haunt of Fear No 19
Date: June 1953
Published by EC Comics
"Cover art by Graham Ingels. Sucker Bait!--The Witch's Cauldron!, script by Albert B. Feldstein, art by Graham Ingels; After his father is killed by a vampire, a chemist comes up with a plan to sacrifice himself so that others may live. Lover, Come Hack to Me!--The Vault of Horror!, script by Albert B. Feldstein, art by George Evans; Every generation, a madwoman is conceived on the night of her parent's wedding who follows the tradition of murdering her newly-wed husband with an ax in the same house. Double-Header!--The Old Witch's Grim Fairy Tale!, script by Albert B. Feldstein, art by Jack Kamen. Foul Play!--The Crypt of Terror, script by Albert B. Feldstein, art by Jack Davis."
Condition: Cover has bold and crisp colors, very light marks on the top edge and small marks on the right edge. Four Staples and light pulling at staples. Small Pen mark on the center "E". Inside of front has tape marks, NO Tape on FRONT. Back is very clean with tiny and slight bump to lower left corner. Binding is tight with vibrant colors and crisp and very clean pages. Please see the images for more details.
If you have any questions or need additional information, please feel free to contact me.
Note:
Over seas buyers please email me for shipping quote, please provide me with a shipping address and postal code.
Detail photos Click to enlarge