⬅ Return to collection
Mid-century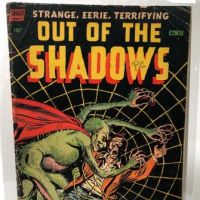 Precode Horror Comic Out of The Shadows No 10 October 1953 Published by Standard Comics Cover art by George Roussos
**Sames Estate as the other Pre Code Comics listed**
Title: Out of The Shadows No 10
Date: October 1953
Published by Standard Comics
"Cover art by George Roussos. Destroy My Enemy, art by Nick Cardy; Meek Elmer Grimes commands a murderous pirate-genie in a bottle; Fulfilling a death contract the genie turns on his master. 'Til Death Do Us Part, pencils by Mike Sekowsky, inks by Mike Peppe; The husband of a dominating wife is sent over to inquire about the rich neighbors. Harvest of Hate text story by Irving Werstein, pencils by John Celardo. Revenge of the Little People, inks by John Celardo; The circus midget "Major" Martin marries the lovely trapeze artist Lila, but is betrayed by her and killed for his money; Lila is haunted by apparitions of ghost midgets, who sabotage her act and let her drop to certain death. The Corpse That Lived!, pencils by Alex Toth, inks by Mike Peppe; A woman is buried with her jewels; When grave robbers open the coffin, the lady stirs again. She recovers and lives happily ever after. 36 pgs."
Condition: Cover has light signs of use and pulling at the staples. Top edge has light wrinkles and a few light edge chips on edge. Bottom edge has wrinkling and rubbing from use and storage. Pencil marks on "W". Spine has wrinkles and signs of use but colors are amazing on this great comic. Back has water stain on the bottom left and pulling at the staples with light aging and wrinkles. Pencil price on top right. Aging and discoloring to the back page. Binding is is very fine with comic book store stamp on first page. Colors are great with very fine pages, stapes are tight, last two pages have light soiling to the bottom margins.
Binding is fine with some signs of use, colors are very good. Please see the images for more details.
If you have any questions or need additional information, please feel free to contact me.
Note:
Over seas buyers please email me for shipping quote, please provide me with a shipping address and postal code.
Detail photos Click to enlarge