⬅ Return to collection
Mid-century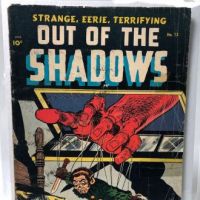 Precode Horror Comic Out of the Shadows No. 13 May 1954 Published by Standard Comics The Cannibal Script by Carl Wessler
**Sames Estate as the other Pre Code Comics listed**
Title: Out of The Shadows No. 13
Date: May 1954
Published by Standard Comics
"The Fearful Night, pencils by Mike Sekowsky, inks by Mike Peppe; A man tries to steal a treasure from witches, but inadvertently becomes their pawn. The Recluse, script by Carl Wessler, pencils by Rocco Mastroserio; A woman marries an ugly old recluse who is reputed to have a fortune stashed in his home; He knows that she only wants the money, but he will have to be forced to reveal its location. The Cannibal!, script by Carl Wessler; A policeman worries about the girl he loves, as there is a cannibal on the loose; It turns out that he needn't worry about her, but should fear for his own safety. Flower of Evil text story by John Michel. Don't Look Behind, pencils by Mike Sekowsky, inks by Mike Peppe; A man who ordinarily terrorizes others finds himself stalked by a shadowy killer; The perpetrator turns out to be the supernatural embodiment of the victim's own evil nature. 36 pgs"
Condition: Cover has soiling to the letting and wrinkled lower right corner and bottom edge as well at the top. Right edge two pieces of tape and wrinkles on the right edge. Pulling at the staples and torn spine at top and light rubbing to the cover. Cover is Attached. Back has light soiling and pulling at the staples, a small stain in the center and lower left corner has fold mark. Binding is fine with some signs of use, colors are very good. Please see the images for more details.
If you have any questions or need additional information, please feel free to contact me.
Note:
Over seas buyers please email me for shipping quote, please provide me with a shipping address and postal code.
Detail photos Click to enlarge