⬅ Return to collection
Mid-century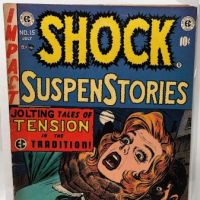 Precode Horror Comic Shock SuspenStories No 15 July 1954 Published by EC Comics Cover by Jack Kamen
Shock SuspenStories No 15 July 1954 published be EC Comics Cover by Jack Kamen
**Sames Estate as the other Pre Code Comics listed**
Title: Shock SuspenStories No 15
Date: July 1954
Pub by EC Comics
Condition: The Cover has bold colors with minimal soiling but the spine has wrinkles at the staples and is pulled and starting to separate, the top staple shows more wear than the bottom staple, some soiling to the spine area. The Back is very clean with minor signs of use or wear. Inside the binding is tight and the pages are very clean and crips with excellent colors. If you need more image please tell me what areas you need photographed.
"Cover art by Jack Kamen. Raw Deal, script by Otto Binder, art by Jack Kamen; A man cannibalizes his new bride in order to survive being stranded at sea. The Confidant, script by Albert B. Feldstein, art by Wally Wood; A mob beats to death a priest when the man refuses to betray the confession of a killer. Slaughter! text story by Albert B. Feldstein. For Cryin' Out Loud!, script by Otto Binder, art by Reed Crandall; A man's conscience bothers him so much after he strangles a woman that he has an uncontrollable urge to confess the deed to anyone in earshot. Well Trained, script by Carl Wessler, art by George Evans; A detective arrests the man burglar who murdered his wife when she surprised him and, after a brutal beating that hospitalizes him, continues to hound him in the hospital about the death he will receive in the electric chair."

If you have any questions or need additional information, please feel free to contact me.
Noted:
Over seas buyers please email me for shipping quote, please provide me with a shipping address and postal code.
Detail photos Click to enlarge