⬅ Return to collection
Mid-century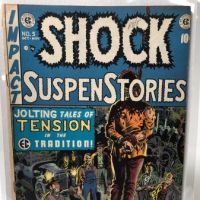 Precode Horror Comic Shock SuspenStories No 5 October 1952 Published By EC Comics Cover by Wally Wood
**Sames Estate as the other Pre Code Comics listed**
Title: Shock SuspenStories No. 5
Date: October 1952
Published by EC Comics
"Cover art by Wally Wood. Well-Traveled!, script by Bill Gaines (co-plot) and Albert B. Feldstein (co-plot, script), art by Jack Kamen; A henpecked husband dis-members his wife after she refuses to let him spend money on toy trains once too often. Hate!, script by Albert B. Feldstein, art by Wally Wood; A man goes along with a plan to set fire to a Jewish couple's home until his mother tells him he's adopted and that his natural parents were Jews. Justice text story by Albert B. Feldstein. What Fur?, script by Albert B. Feldstein, art by Joe Orlando; Captain Limpfort is hired by a furrier to fly him to a planet in another Solar System in order for the furrier to trap and skin skunks, which he makes into fashion apparel. Cold Cuts!, script by Albert B. Feldstein, art by Jack Davis; A man murders his wife and cuts up her body in the tub to store in the meat locker. 36 pgs."
Condition: Cover is very fine with bold and strong colors, paper is still still with only a tiny edge bump on the lower right corner. A small tear on the top spine edge, and staples and cover are in great condition. A Pencil number on top right in the "C". Back has light soiling from storage but no damage. Binding is strong with great color and the pages are crips with very minimal signs of use. A rare copy in such condition.
If you have any questions or need additional information, please feel free to contact me.
Note:
Over seas buyers please email me for shipping quote, please provide me with a shipping address and postal code.
Detail photos Click to enlarge