⬅ Return to collection
Mid-century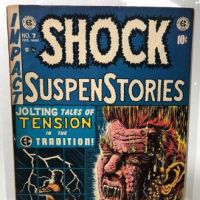 Precode Horror Comic Shock SuspenStories No 7 February 1953 Published by EC Comics Cover by Al Feldstein
**Sames Estate as the other Pre Code Comics listed**
Title: Shock SuspenStories No. 7
Date: February 1953
Published by EC Comics
"Cover art by Albert B. Feldstein. Beauty And The Beach!, script by Albert B. Feldstein, art by Jack Kamen; Two men are frustrated by the vanity of their attractive wives and the fact that they have offers to do some modeling and to participate in four beauty contests. The Bribe!, script by Albert B. Feldstein, art by Wally Wood; A fire inspector commits suicide when a fire breaks out in a night club where he took a bribe to overlook code violations; He thinks his daughter was killed in the fire with the other patrons because of a photo taken of her earlier that evening. The Mountain Jackal text story by Albert B. Feldstein. Infiltration, script by Albert B. Feldstein, art by Joe Orlando; This story postulates that a small government agency responsible for ferreting out Martian infiltrators is completely infested with Martian infiltrators except for a sole human whom they gun down. The Small Assassin!, script by Ray Bradbury and Albert B. Feldstein (adaptation), art by George Evans; a mother is paranoid that her newborn baby is attempting to kill her. 36 pgs"
Condition: Cover's color is Very Good with pulling at the staples and very tiny and faint wrinkle on the left edge at staples. Cover is not attached. Colors are bold and strong and the cover page is still stiff. Back has light soiling / aging to the right edge. Pencil number on top right. Binding is tight with crips and very clean pages, all have bold and strong colors on the pages.
If you have any questions or need additional information, please feel free to contact me.
Note:
Over seas buyers please email me for shipping quote, please provide me with a shipping address and postal code.
Detail photos Click to enlarge