⬅ Return to collection
Mid-century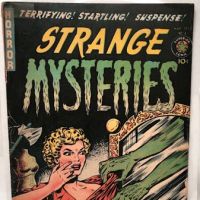 Precode Horror Comic Strange Mysteries No. 4 March 1952 published by Superior Comic
Strange Mysteries No. 4 March 1952 published by Superior Comic
**Sames Estate as the other Pre Code Comics listed**
Title: Strange Mysteries No. 4
Date: March 1952
Pub by Superior Comic
Condition: The comic has bold colors and only small chip on the mid section of the right side. There is a small piece of tape on the top left edge of the cover and top staple is pulled and separated. The Back is almost perfect with a small piece of tape on the top right edge. The Binding is tight with minimal signs of use. Good colors and pages are in very fine condition.
If you need more image please tell me what areas you need photographed.
"Jack Kamen-ish art and stories. "Hands of Death"; A woman finds a mirror covered with black paint so she scrapes it off; A hag escapes from the mirror and puts the woman in it. "Ghouls Unmasked"; A woman contacts her dead former husband; Her new husband pretends to be her former husband and shoots her. "Revenge in Miniature" text story. "Rat Men of Paris"; A gravedigger finds a tunnel to an underworld of human-like rats; The queen keeps him as a slave but he escapes; The ratmen reach the surface world and are killed by police. "Terror's Prisoner"; A scientist puts the brain of a hitchhiker in a gorilla; The gorilla takes the scientist's daughter. 36 pgs., full color."

If you have any questions or need additional information, please feel free to contact me.
Noted:
Over seas buyers please email me for shipping quote, please provide me with a shipping address and postal code.
Detail photos Click to enlarge