⬅ Return to collection
Mid-century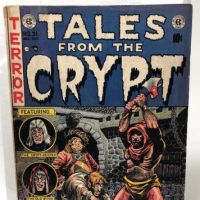 Precode Horror Comic Tales From The Crypt No 31 August 1952 Published by EC Comics Jack Davis Cover Art
**Sames Estate as the other Pre Code Comics listed**
Title: Tales From The Crypt No 31
Date: August 1952
Published by EC Comics
"Cover by Jack Davis. "Survival…or Death!", script by Al Feldstein, art by Jack Davis; Two men aboard a cargo ship are bored until they get the idea to build a rat trap and ask the Captain to have a barrel built with a platform in the middle of it and a run off down the center. "The Thing In the 'Glades!", script by Al Feldstein, art by Al Williamson; A man's wife dies in childbirth giving him a deformed retarded son with stunted legs, and he becomes a hermit in his cabin in the Glades. "Soft!" text story. "Kamen's Kalamity!", script by Al Feldstein, art by Jack Kamen, Graham Ingels (draws himself), Johnny Craig (draws himself), and Jack Davis (draws himself); Bill Gaines and Al Feldstein tell this auto-biographical tale of hiring Jack Kamen to draw horror stories, first telling Kamen that his work is too sweet. "Buried Treasure!", script by Al Feldstein, art by Graham Ingels (as Ghastly); In 1667 Germany a fat Duke lords it over his starving peasants, but when he imposes a tax on the peasants for "dirtying his carriage' with the blood of a young child he rode down in the street, Johann conceives the plot of stealing some of the Duke's jewels in order to pay the tax. 36 pgs., full color."
Condition: The Cover is some soiling and tape on the spine, wraps around to back. Some chipping to the right edge. The Back has soiling and tape on the edge of spine. The binding is tight, colors have slight fade.
If you have any questions or need additional information, please feel free to contact me.
Note:
Over seas buyers please email me for shipping quote, please provide me with a shipping address and postal code.
Detail photos Click to enlarge