⬅ Return to collection
Mid-century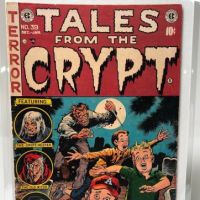 Precode Horror Comic Tales From The Crypt No. 39 December 1953 Published by EC Comics Jack Davis Cover
**Sames Estate as the other Pre Code Comics listed**

Title: Tales From The Crypt No. 39
Date: Dec 1953
Published by EC Comics
"Cover by Jack Davis. "Undertaking Palor," script by Al Feldstein, art by Jack Davis; Some boys peeping through an undertaker's basement window overhear a plot between the town druggist and undertaker to poison citizens to profit from their funeral costs. "The Craving Grave," script by Al Feldstein, art by Joe Orlando; This story is told by a grave; It speaks of spending lonely years of being laughed at by the other graves, because they have children (corpses) while the narrator remains barren. "Fire!" text story. "The Sleeping Beauty!", script by Al Feldstein, art by Jack Kamen; In this grim fairy tale, the REAL reason sleeping beauty spends all that time sleeping during the daytime hours turns out to be…aw, you guessed it. "Shadow of Death," script by Al Feldstein, art by Graham Ingels; The shadow of a corner newspaper dealer detaches itself from his body one evening and seizes the shadow of an axe in order to assault an unscrupulous competitor who is attempting to ruin him. 36 pgs."
Condition: The Cover has light fading to the top, pulling at the staples but still attached. Tiny chipping on the lower right corners, and a faint wrinkle on the top right corner. Light wrinkle on the spine edge from use. Bottom edge has light wear. The back has soiling from storage on the back with some signs of use. The inside binding is tight with no writing or damage inside. Colors inside are bold and strong.
If you have any questions or need additional information, please feel free to contact me.
Note:
Over seas buyers please email me for shipping quote, please provide me with a shipping address and postal code.
Detail photos Click to enlarge