⬅ Return to collection
Mid-century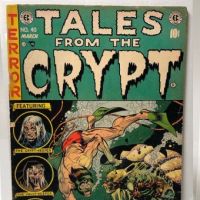 Precode Horror Comic Tales From The Crypt No 40 March 1954 published by EC Comics Cover by Jack Davis
**Sames Estate as the other Pre Code Comics listed**
Title: Tales From The Crypt No 40
Date: March 1954
Published by EC Comics
"Cover by Jack Davis. "Food For Thought," script by Al Feldstein, art by Jack Davis; A woman plots to run away with the circus animal trainer because her husband, even though he can project his thoughts to her which they use as their act, does not love her. "Pearly To Dead," script by Al Feldstein, art by George Evans; Two navy divers discover a pearl bed while placing demo charges and make plans to go back for them after the war ends. "Choice!" text story. "Prairie Schooner," script by Al Feldstein, art by Bernie Krigstein; A madman converts a house into a ship in the middle of a prairie. "Half-Baked!", script by Al Feldstein, art by Graham Ingels; A man who enjoys tormenting lobster ends up in a car crash where the steering column disembowels him and the flames that erupt broil him alive."
Condition: Cover is is clean with very slight and subtle wear, top staple has pulled from binding, bottom is tight and attached. Top right corner has light marks and small folds, slight rubbing at "o" on spine edge, very light soiling to the front. Back is very good with very slight and light wear from storage. Binding is tight, some signs of wear but with crisp and very clean pages. Center page is dislocated from binding. Please see the photo. Colors inside are great with very clean images.
Please see the images for more details.
If you have any questions or need additional information, please feel free to contact me.
Note:
Over seas buyers please email me for shipping quote, please provide me with a shipping address and postal code.
Detail photos Click to enlarge