⬅ Return to collection
Mid-century
This item has been sold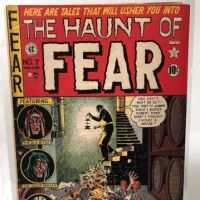 Precode Horror Comic The Haunt Of Fear No 7 May 1951 EC Comics Johnny Craig Cover
**Sames Estate as the other Pre Code Comics listed**
Title: The Haunt Of Fear No. 7
Date: May 1951
Published by E C Comics
"Cover art by Johnny Craig. Room For One More!--The Witch's Cauldron!, script by Albert B. Feldstein, art by Graham Ingels; Young Rodney Whitman loses his parents in an automobile accident and goes to live with relatives; When he reaches twenty he realizes there is only one spot left in the family crypt and wishes to secure it for himself, thus he murders his three living relatives and disposes of their bodies in the swamp, lake, and cellar. The Basket!--The Crypt of Terror, script by Albert B. Feldstein, art by Jack Davis; A man born with two heads carries a basket around on his shoulder to prevent others from knowing of his condition. Horror In the School Room--Haunt of Fear, script by Albert B. Feldstein, art by Jack Kamen. The Howling Banshee!--The Vault of Horror!, script and art by Johnny Craig
Condition: Cover is Fine with some light pulling at the staples. Light soiling from storage with bold colors but some light age to the colors. Back has some soiling from storage with minor pulls at the staples with a small tear at the staples. Binding is tight with no loose or damaged pages. Colors are still very bold and pages do not have any damage.
If you have any questions or need additional information, please feel free to contact me.
Note:
Over seas buyers please email me for shipping quote, please provide me with a shipping address and postal code.
Detail photos Click to enlarge