⬅ Return to collection
Mid-century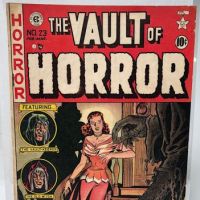 Precode Horror Comic Vault of Horror No. 23 February 1952 Published by EC Comic Cover by Johnny Craig
Vault of Horror No. 23 February 1952 Published by EC Comic Cover Johnny Craig
**Sames Estate as the other Pre Code Comics listed**
Title: Vault of Horror No. 23
Date: February 1952
Pub by EC Comics
Condition: The Cover is VG with some slight overall soiling and slightly yellowing. There is a small piece of tape on the top left edge. A fold mark on the bottom right edge and small bumps to the edge on the left top area. The Back has some soiling and stains on the left side and tape on the top right edge. The Binding is tight with the bottom staple showing some pulling on the front and the back has pulling and the back cover is loose. The inside is great but is slightly yellowed but the colors are still very good.

If you need more image please tell me what areas you need photographed.
"Cover by Johnny Craig. Biography of artist Ghastly" Graham Ingels, with photo. "A Stitch in Time!", script and art by Johnny Craig; The scene opens in an old-fashioned sweatshop, run by a Mr. Lasch, who makes the women work 14 hours a day, 6 days a week, for a salary of $6; The machinery is outdated and dangerous, and Lasch treats the women like slaves. "99 44/100% Pure Horror!", script by Al Feldstein, art by Jack Davis; Life had been good to Ernie ever since he had become manager of the Hudson Soap Company, and his predecessor, Benny Anderson, had disappeared; He suddenly remembered a date he had with a showgirl. "Superstition!" text story by William M. Gaines. Dead Wait!, script by Al Feldstein, art by Jack Davis; In an isolated plantation home on a tropic isle, a shot rings out and 'Red' Buckley's former plantation boss lies dead at his feet. "Staired… in Horror!", art by Graham Ingels; Irma stared down at the grave of her late husband and smiled…. just as a gentleman came near to pay respects to his late wife; As the two conversed, Irma gleaned that this old boy must have money, so she struck up an on-going affair with this Mr. Hornsby, and plotted to have him murdered for his insurance. 36 pgs"

If you have any questions or need additional information, please feel free to contact me.
Noted:
Over seas buyers please email me for shipping quote, please provide me with a shipping address and postal code.
Detail photos Click to enlarge