⬅ Return to collection
Mid-century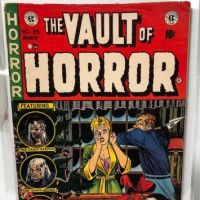 Precode Horror Comic Vault of Horror No. 35 March 1954 Amazing Cover by Johnny Craig
**Sames Estate as the other Pre Code Comics listed**

Title: The Vault of Horror No. 35
Date: March 1954
Published by EC Comics
"Cover by Johnny Craig. E.C. Fan-Addict Club promo. "And All Through the House," script and art by Johnny Craig; A maniac woman-killer dressed as Santa is on the loose. "Tombs-Day!", art by Jack Davis; A dangerous expedition leads to a living sphinx. "Space to Breathe!" text story. "Beauty Rest," art by Jack Kamen; Helen gazes out the window of the room she shares with Joyce as the latter bid goodnight to a Mr. Boxer, the man she told Helen would help her to win a beauty contest the next day: "Miss Corpse of 1954." "Shoe-Button Eyes!", script by Johnny Craig, art by Graham Ingels (as Ghastly); The little boy celebrates the best Christmas he ever had because he could now see; One day, however, his mom introduces the little boy to his new step-dad… a man who made fun of the little boy and mistreated his mother. 36 pgs".
Condition: The Cover has bold and strong colors with minimal wear, slight wear on the top left edge and very light marks on the top edge. The bottom left has small bump and tiny wear and again tiny and faint edge marks t the bottom. A strong and beautiful cover. The back is very clean with light toning to the right edge. Top edge has light chipping and a pencil number written. The inside has tight binding with no writing, crips colorful changes.
If you have any questions or need additional information, please feel free to contact me.
Note:
Over seas buyers please email me for shipping quote, please provide me with a shipping address and postal code.
Detail photos Click to enlarge