⬅ Return to collection
Mid-century
This item has been sold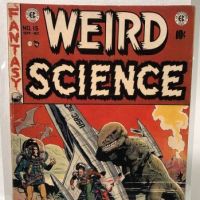 Precode Horror Comic Weird Science No 15 September 1952 Published by EC Comics Wally Wood Cover
**Sames Estate as the other Pre Code Comics listed**
Title: Weird Science No 15
Date: September 1952
Published by EC Comics
"Cover by Wally Wood. Stories by Bill Gaines and Al Feldstein. Art by Wally Wood, Al Williamson, Jack Kamen, and Joe Orlando. NOTE: There are two issues in this series numbered 15. The one dated July/Aug 1950 is issue # 4 in the series. The issue pictured here, dated sept/oct 1952, is the actual # 15 in the series. (This issue was reprinted by East Coast Comics with a $1 cover and 1970's copyright date (see E.C. Classic Reprints #2). These and other changes make the reprint easy to distinguish from the original which has a 10-cent cover price and a 1950's publication date.) EC's influential New Trend title featured some legendary sci-fi and comics artists. Lonely Melvin gets his own personal harem - just add water, featuring good-girl art by Jack Kamen. Cowboys are lured by a beautiful woman into a trap set by alien ranchers, with art by Joe Orlando. Scientists accidentally travel back in time, in Al Williamson's first Weird Science story. Plus The EC "Artist of the Issue" featuring Joe Orlando, which has a special meaning for fans of the original Watchmen. Cool dinosaur cover by Wally Wood. The Martians!; Captivity; Cunning!; Miscalculation; Bum Steer. 32 pages"
Condition: Cover by Wally Wood, with some wear on the spine side. Light pulling at the staples and light wear at the edges. Back has slight discoloring to the page. Binding is tight and strong and bold colors. Inside cover has light signs of sue with small pulling at the staple and spine.
If you have any questions or need additional information, please feel free to contact me.
Note:
Over seas buyers please email me for shipping quote, please provide me with a shipping address and postal code.
Detail photos Click to enlarge