⬅ Return to collection
Mid-century
This item has been sold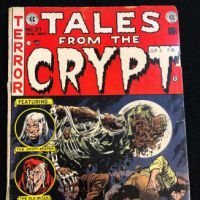 Precode Comic Tales From The Crypt # 37 1953 Ec Comics Cover By Jack Davis
**Sames Estate as the other Pre Code Comics listed**

Title: Tales From The Crypt # 37
Date: August 1953
Pub by EC Comics
Cover by Jack Davis

Condition: Front Cover is Very good with bottom right corner fold mark, chipping midway down on the right side and then half way down a small tear. Binding is tight with slight pulling at the cover. Inside is very clean and very clean and bright colors. Front of the cover has a stamp date of Jun 5 p.m. Back cover is very clean, top edge has chipping. Inside of Back cover has tape marks inside. Small tear on edge of back cover and back shows some wear and damage. Pencil mark on top right side.
If you need more image please tell me what areas you need photographed.

"Cover by Jack Davis. "Dead Right!", script by Al Feldstein, art by Jack Davis; A doctor rigs up an elaborate hoax to convince his heart specialist friend that his theory of awareness immediately after death could be true by pretending to poison him but really only administering an anesthetic. "Pleasant Screams!", script by Al Feldstein, art by Joe Orlando; A high school teacher narrates his experiences as the main character in the dream of a sadistic student. "Solid" text story. "Strop! You're Killing Me!", script by Al Feldstein, art by Bill Elder; When Clem retires as Fire Chief, that leaves old Dan Harper on the job…..until the Mayor appoints a younger man as Chief, and, from the beginning, Dan and Chief Miller never see eye-to-eye about anything. "The Rover Boys!", script by Bill Gaines (co-plot) and Albert B. Feldstein (co-plot, script), art by Graham Ingels; A doctor gets his revenge on the five members of the medical board who revoked his license to practice medicine by transferring their brains into the bodies of dogs, and using their reasoning abilities to make money as a novelty act. 36 pgs."

If you have any questions or need additional information, please feel free to contact me.

Noted:
Overseas buyers please email me for shipping quote, please provide me with a shipping address and postal code.
Detail photos Click to enlarge