⬅ Return to collection
Art : Lithographs : Mid Century Design : Mid-century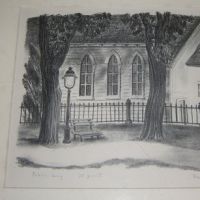 Prentiss Taylor Lithograph 1935 Public Way SIGNED Edition of 25
Prentiss Taylor (1907 – October 7, 1991), the artist whose life and art reflected social political subjects as well as personal philosophical beliefs.
Considered one of the major non African American figures to be involved with the Harlem Renaissance, his art of this period was reflective of the struggles of the movement. Many subjects of his etchings were mirrors of the hatred and struggles as well as the excitement of this hugely influential African American Art Movement of the early 20th C.
His art after this period became reflective of his personal aesthetic and philosophical views.
Taylor moved to Washington DC where he taught at American University. Many of his pieces are in the Corcoran Gallery and the Smithsonian Institution as well as private and other major institutions.

Sturgis Antiques is very happy and proud to have the honor in selling lithographs and other items associated with this artists and his circle. Please see the other Prentiss Taylor items and also the Carl Van Vechten signed book.

Title: Public Way
Year: 1935
Edition: edition of 25
Signed and Dated lower Right
Title is hand Written in Pencil lower left
Size: Framed 18 1/4" x 22"

NOTE: this piece was photographed under glass, any scratches or marks are in the glass not the lithograph.


If you have any questions or need additional information, please feel free to contact me.
Detail photos Click to enlarge