⬅ Return to collection
Mid-century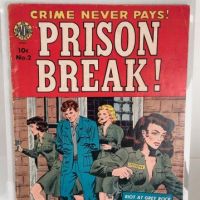 Prison Break! No. 2 November 1951 Wally Wood Cover Art Pre Code comic Avon Publication
Prison Break! No. 2 November 1951 Pre Code Comic
**Sames Estate as the other Pre Code Comics listed**
Title: Prison Break! no. 2
Date: November 1951
Pub by Avon Publications
"Avon Books was founded in 1941 by the American News Company (ANC) to create a rival to Pocket Books. Active from 194-1971"
Condition: The Cover is very good with only some pulling at the staples, small chipping at the top edge, and small wrinkle top right corner. The Back cover has some minor soiling and sane shows some chipping but the intact. The binding is tight, first few pages has staining on the top first 4 pages other pages are strong color and in very good condition. Wally Wood cover. Everett Raymond Kinstler inside front cover. "Walter Legenza and the Tri-State Gang!" (art by Joe Kubert), "Roger Tuohy the 'Tough-Boy' Killer," "Riot at Grey Rock," and "The Case of the MissingBridegroom" (art by Allen Ulmer)
If you have any questions or need additional information, please feel free to contact me.
Noted:
Over seas buyers please email me for shipping quote, please provide me with a shipping address and postal code.
Detail photos Click to enlarge