⬅ Return to collection
[uncategorized]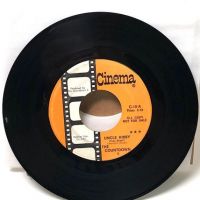 Promo Dj Copy The Countdown 5 Uncle Kirby (from Brazil) on Cinema C-10 1968 Texas Garage
The Countdown 5 Uncle Kirby(From Brazil) b/w Speculation on Cinema C-10 Dj Copy, Promo
The Countdown 5 was a Texas garage band which started in 1965 and their last single was in 1969.Their big was Uncle Kirby, this single, first released in 1967 with Cinema picking up the record and releasing it in 1968. This is the PROMO Dj copy of the cinema release.
Listen to the tracks here:
SIDE 1

SIDE 2

Condition: Vinyl is solid VG+, loud and very clean. SIDE A has light surface marks, still amazing sounding and tracking issues. SIDE B has light surface at the start and is almost not heard. A very Solid Copy. Sleeve is white generic as issued.
If you have any questions or if you need additional images, please feel free to email me.

Note:
shipping cost is for US only, if you are an over seas buyers please email me your shipping address to get a shipping quote.
Detail photos Click to enlarge