⬅ Return to collection
Daguerreotype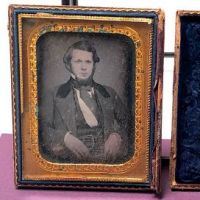 Quarter Plate Daguerrotype of Wealthy and Well Dressed Stylish Man Full Image of Sitter Circa 1850s
A early image of a very well dressed man who had extreme wealth. This large image, a quarter plate was a huge luxury and expense in it's day. The man who sits showing off his fancy clothes and his means. Not dressed like a typical man in his day, his clothes show off his style. The images is very clear with hand tinting to the image to accentuate the life likeness of the image.
No details of photographer or the sitter.
Size: Quarter Plate - 3 ¼" x 4 ¼",
Condition: the case is detached and broken on the right side hinge, please see the images of this detail. The Daguerrotype has some tarnishing to the right side and the bottom. The left side has lesser tarnishing. There is a stain on the top center of the image, at the very top of the man's head. Minor spotting and dust under the glass. The outside trim on the mat, is damaged and broken on the left side. The top left has slight damage . Please see the images for more details.
If you have any questions or need more images, please feel free to email me.
NOTE:
The price listed is for US. If you are an overseas buyer please email me your shipping address before purchase to get a shipping quote.
Detail photos Click to enlarge