⬅ Return to collection
Tintype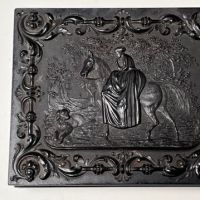 Quarter Plate Hand Tinted Tintype Ornate Union Case Near Mint Woman On Horse With Dog Littlefield Parsons 5 Inch Wide
A beautiful and near perfect Union Case by Littlefield, Parsons & Co.
Patented Oct 14th 1856

Size: quarter plate 3.25 x 4.25 inches (8 x 11 cm)

The ornate union case depicts a woman on horseback, contemplating with her hand on her chin. A loyal dog sits at the horse's feet. A ornate chase flower boarder goes around the case. The back and front are the dame image. A beautiful deep rich purple velvet is on the inside of the case with the right side having the original maker's label.
The Image is a quarter plate hand tinted Tintype of a couple in ornate brass mat. there is no glass on this image.

History of the Union Case:
"Around 1850, Samuel Peck developed a material made from shellac and wood fiber that became known generically as thermoplastic. Peck's own name for the material was Union. The material could be heated and pressed into molds like modern plastics. It was quickly adapted to making holders for early photographic images such as tintypes, ambrotypes and daguerreotypes. These hinged holders made of thermoplastic are known collectively as Union Cases after Peck's process. The word Union refers to the union of shellac and wood.."
If you have any questions or need additional information, please feel free to contact me.


Noted:
Overseas buyers please email me for shipping quote, please provide me with a shipping address and postal code.
Detail photos Click to enlarge