⬅ Return to collection
Daguerreotype
This item has been sold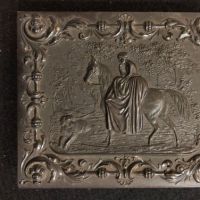 5 Inch Wide Quarter Plate Ornate Union Case Near Mint Woman On Horse With Dog Littlefield Parsons
A beautiful and near perfect Union Case by Littlefield, Parsons & Co.
Patented Oct 14th 1856

Size: quarter plate 3.25 x 4.25 inches (8 x 11 cm)

The ornate union case depicts a woman on horseback, contemplating with her hand on her chin. A loyal dog sits at the horse's feet.A ornate chase flower boarder goes around the case. The back and front are the dame image. A orante deep rich purple velvet is on the inside of the case with the right side having the original maker's label. Please see images for details.
The Image is a quarter plate Tintype of a couple in ornate protective mat. Not, there is no glass on this image.


Detail photos Click to enlarge