⬅ Return to collection
Ambrotype : Daguerreotype
This item has been sold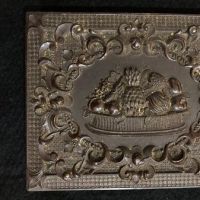 Quarter Plate Thermoplastic Case Holmes, Booth and Haydens' Daguerrotype Ambrotype Union Case
Thermoplastic case by Holmes, Booth & Hayden
Thermoplastic cases, sometime referred to as Union Cases
A brief Description of Thermoplastic, Union Cases:

"A "Union Case" and is an example of an early thermoplastic technology, being produced from about 1855 to 1865. Some people call them gutta-percha cases but that is not a correct term, better being "thermoplastic case" or, as we use, a "Union Case". A mixture of shellac and wood fibers were pressed into a steel mold. And to think we thought "plastics" were new in the 1950s, look at the quality they achieved in the 1850s!"

More Info:
"Samuel Peck introduced the process around 1853. The process was created by heating the combination or the union of several materials that included fibrous material, wood fiber, gum shellac and color dye, thus the name "Union Case." Daguerreotypes were fragile and were easily scratched and damaged. Union Cases provided good protection. Although there were several makers of "Union Cases," Holmes, Booth and Hayden were the first to develop and use a range of colors other than black or brown."

Holmes, Booth & Hayden were makers of fine Union cases in Waterbury, Connecticut. This being a larger Quarter Plate size with original label and mate and glass.

Size: image area is a quarter plate 3 1/4" x 4 1/4"
The Thermoplastic Case is a 5" x 3 7/8"
Condition: Good condition with sadly a crack on the front, please see images and also the back side, top right has a small chip on the corner. Please note I have photographed the damaged areas, please see images for a complete visual description.

If you have any questions or if you need additional images, please feel free to contact me.

Note:
shipping cost is for US only, if you are an over seas buyers please email me your shipping address to get a shipping quote.

Detail photos Click to enlarge