⬅ Return to collection
1st Edition : Out Of Print : Modern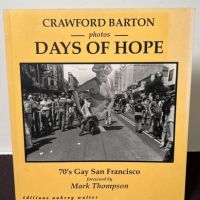 Rare 1st Edition of Crawford Barton Photos Days of Hope: 70's Gay San Francisco 1994 Published by Editions Aubrey Walter  Softcover
Crawford Barton Photos Days of Hope: 70's Gay San Francisco
Forward by Mark Thompson
Softcover edition
1st edition Published by Editions Aubrey Walter
1994
Black and White images from the artist's collection
This amazing document of the 60's and 70's San Francisco Gay scene by Crawford Barton.
Crawford Barton (June 2, 1943 – June 12, 1993)
His work and imagery was at the very beginning of the gay scene and many of his images of leading activist such as Harvey Milk and of some of the first Gay Pride Parades showcased a community of love and celebration.
"..By the early 1970s he was established as a leading photographer of the "golden age of gay awakening" in San Francisco. He was as much a participant as a chronicler of this extraordinary time and place."

"I tried to serve as a chronicler, as a watcher of beautiful people — to feed back an image of a positive, likable lifestyle — to offer pleasure as well as pride," he explained."
"His photos, historic, artistic, sexy and optimistic, tell us about 70s San Francisco. Here we have the gay long-haired freaks dancing in the street, the love-ins in the park, proud dykes on wild bikes, cross-dressed queens traipsing up Castro, midnight muscle-boys prowling in leather, and lots more. These images have become classics of the gay world."
Condition: Binding is tight with no damage or loose pages. The first page has embossed seal of previous owner. The Front cover has a light fade on the right side. The back has very minor and very faint fade. Please see the images of the book for more details.


If you have any questions or need additional information, please feel free to contact me.

Note:
Overseas buyers please email me for shipping quote, please provide me with a shipping address and postal code.
Detail photos Click to enlarge