⬅ Return to collection
Limited : Out Of Print : Rare & Unique : Mid-century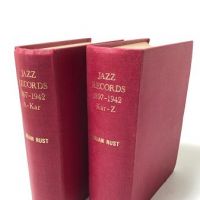 RARE 2 Vol Set Jazz Records 1897-1942 Hardback Published by Storyville Publications 1970 2nd Edition OUT OF PRINT
This amazing undertaking of Jazz Records from 1897-1942, stated over 16,000 titles.
2 Volumes, vol one A-Kar and vol two Kat-Z
Compiled by Brian Rust
1st Edition,1970 of Revised Edition of 1969
Published by Storyville Publications 63, Orford Road, London
(does not have the soft covered 'Song Title Index', the appendix)
A massive undertaking and of course a work in progress but it was 1969 that this was done, pre internet and pre interest in a lot of the then forgotten records, so tracking down information was a huge undertaking. Not a complete source but this was one of the earlier books compiled by then an almost forgotten field. So thank you Mr Rust for attempting.
This amazing 2 vol set is hardback with gilt lettering on the spine, no dust jacket.
Size: 8 1/2 inches tll
Condition: The binding is very fine with some light signs of use, no loose or damage to the pages and the binding is still tight. The red hardcover is very fine with minimal signs of use or wear. Light yellowing to the top edge of both books. The gilt lettering is very fine. Both volumes are in Very good to closer to near Fine condition with only light signs of use. Please see the images for more details.
If you have any question or if you need additional images, please feel free to email me.
NOTE:
The shipping price is for US buyers only. If you are an overseas buyer, please contact me before purchase with your shipping address to get a quote.
Detail photos Click to enlarge