⬅ Return to collection
Punk : 1970-Contemporary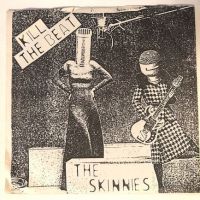 Rare and First Pressing of The Skinnies 7" Kill The Beat on Lectric Eye Records 1978 New Orleans Punk Band
1978 Punk Single The Skinnies Kill The Beat on Lectric Eye Records EYE 1Rare and First Pressing
The Skinnies Kill The Beat 7" on Lectric Eye Records released in 1978.
A I'm A Dullard
B Out Of Order
Another great early punk band from New Orleans, the single was released in 1978. Lectric Eye Records EYE 1, was the label that released it was owned by one of the band members. The second release on the label was The Normals, the same year as this 7".
Please enjoy this Sound Clip:
Condition: The Vinyl is a solid NM-, both sides played and does not have any skips or pops or surface noise. No noise before the music starts. No marks with full luster and shiny vinyl The Sleeve is VG+, bottom left has small wrinkle to the edge, the top center is slightly discolored and has slight wrinkling. The back has small bend on the slower right and the right edge is slightly discolored.
Please ask for images and sound clips.
If you have any questions or if you need more images please feel free to contact me.
NOTE:
The price listed is for US. If you are an overseas buyer please email me your shipping address before purchase to get a shipping quote.
Detail photos Click to enlarge