⬅ Return to collection
Punk : 1970-Contemporary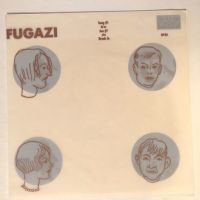 Rare and Limited Edition Fugazi Song #1 on Subpop Records SP52 Green Vinyl Singles Club 1989
Fugazi Song #1 on Subpop Records SP52 Green Vinyl Singles Club 1989 Limited Edition Pressing on Green Translucent
Fugazi Song #1 7" Subpop Records SP52 Singles Club Limited Edition Pressing on Green Translucent Vinyl 1989.
A Song #1
B1 Joe #1
B2
Break-In
Subpop had a singles club going in the late 1980's into the 1990's, each month you get a limited edition single in the mail and you never knew which one you would get. Fugazi in 1989 was going on to be huge, they already were but they were moving into a different realm. So when you got this one in the mail you knew it was going to great and something special. As you can see it is, beautiful screened printed images on cardstock with a vellum overlay with print and when put together made an impressive and unique record. Second it was on a great see through green vinyl and lastly, you had three songs that were only on this 7", later it would be released on Dischord Records but if you saw them live, you heard these songs. Not on any album release, you had a slice of something very special.
Condition: The vinyl is a high VG+, slight noise at the beginning of the track but this vinyl looks almost unplayed or what the client said, they only played this one a few times! The sleeve is NM-, no marks in well cared. Please ask for images and listen to these sound clips:
If you have any questions or if you need more images please feel free to contact me.
NOTE:
The price listed is for US. If you are an overseas buyer please email me your shipping address before purchase to get a shipping quote.
Detail photos Click to enlarge