⬅ Return to collection
[uncategorized]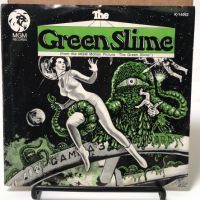 Rare and NEAR MINT Promo DJ Copy With Picture Sleeve for The Green Slime Movie Soundtrack 1969
The Green Slime Theme Song The Green Slime b/w Far Beyond The Stars with Picture Sleeve. On MGM K-14052. Promo Special DJ Copy, printed Not For Sale on label.
The great era of horror movies, 1969 classic The Green Slime. One of those holy grails for horror collectors, the picture sleeve was a combo of the best of the two worlds, B Movie appeal with the horror comic cover styles of the day, when the art was all a kid needed for his imagination to run wild.
The movie was an MGM production, this psychedelic song was just what the movie needed.
The rare Promo picture sleeve is one prize, the music was pure sing a long pop!
Listen to the Tracks Here:
SIDE 1

SIDE 2

Condition: Vinyl as close to NM- as you are gonna get. Sounds great as soon as the needle goes on. Full shiny vinyl and looks to only had a few plays. Sleeve is high VG+ but close to NM-. Due to age, graded at NM-. Front has a very faint wrinkle and edge bend on lower right and faint only seen at angle is a faint record impression. Back has faint record impression seen at angle.
NOTE:
International orders, please email me your shipping address before purchase with your address to get a shipping quote. The shipping price is for US buyers only.
Detail photos Click to enlarge