⬅ Return to collection
Mid-century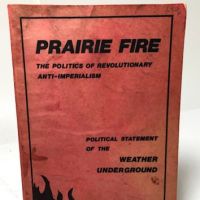 Rare and Original Prairie Fire Politics of Revolutionary Anti-Imperialism Weather Underground 1974 Red Dragon Print Collective
Original Prairie Fire Politics of Revolutionary Anti-Imperialism Political Statement of The Weather Underground
Originally published and printed in 1974 by Red Dragon Print Collective, The Weather Underground's printing organization.
This was reprinted in 1974 in Boston and is an edition of 1,000, printed almost identical but changed back cover and the last few pages do not have the blank Note pages. The cover is thick stock colored paper and glued binding. This edition has title on the spine and the added "Boston '74" at the bottom of the spine.
Later editions have a printed price on the front cover.

My client was an active member of a communist and counter culture book store in Boston, Cambridge Mass called The Red Book. Below, my client was very gracious to allow me to photo her photograph of the front of the book store. What a piece of history to add to this rare counter culture book.
If you not familiar with the Weather Underground, was an organization first active in 1969, founded on the Ann Arbor campus of the University of Michigan, as a branch of SDS (Students for a Democratic Society). They were a militant group, politically active and determined to bring down American Imperialism with direct action and education of politics. The FBI considered them to be a terrorist group which gave the government the "right" to threaten, arrest, spy and kill people associated with the group.
Along with the great Black Panther Party, the Weather Underground, members were knowns as Weathermen, the group put themselves on the front line to defend civil liberties and stop the abusive powers of the local and federal government.


Size: 7 x 10 inches
Condition: The cover is faded with some light soiling and minor water staining. Top right has original pencil price and the corners are bumped from storage. Back has light soiling from storage and a small water stain on the top edge. Binding is fine and has signs of wear and use but intact and not breaking, the glue is holding. Light staining on the first several pages on the top edge. Please see the images provided for more details.
If you have any questions or if you need additional images, please feel free to email me.

Note:
shipping cost is for US only, if you are an over seas buyers please email me your shipping address to get a shipping quote.
Detail photos Click to enlarge